I have experience with bleeding edge technologies such as React, React Redux, React Native & Flux, as well as Node.js, Express.js, Angular 1.x, MongoDB, & automated trading algorithms using C++.
I am very comfortable learning brand new libraries & technologies in a very short amount of time.
---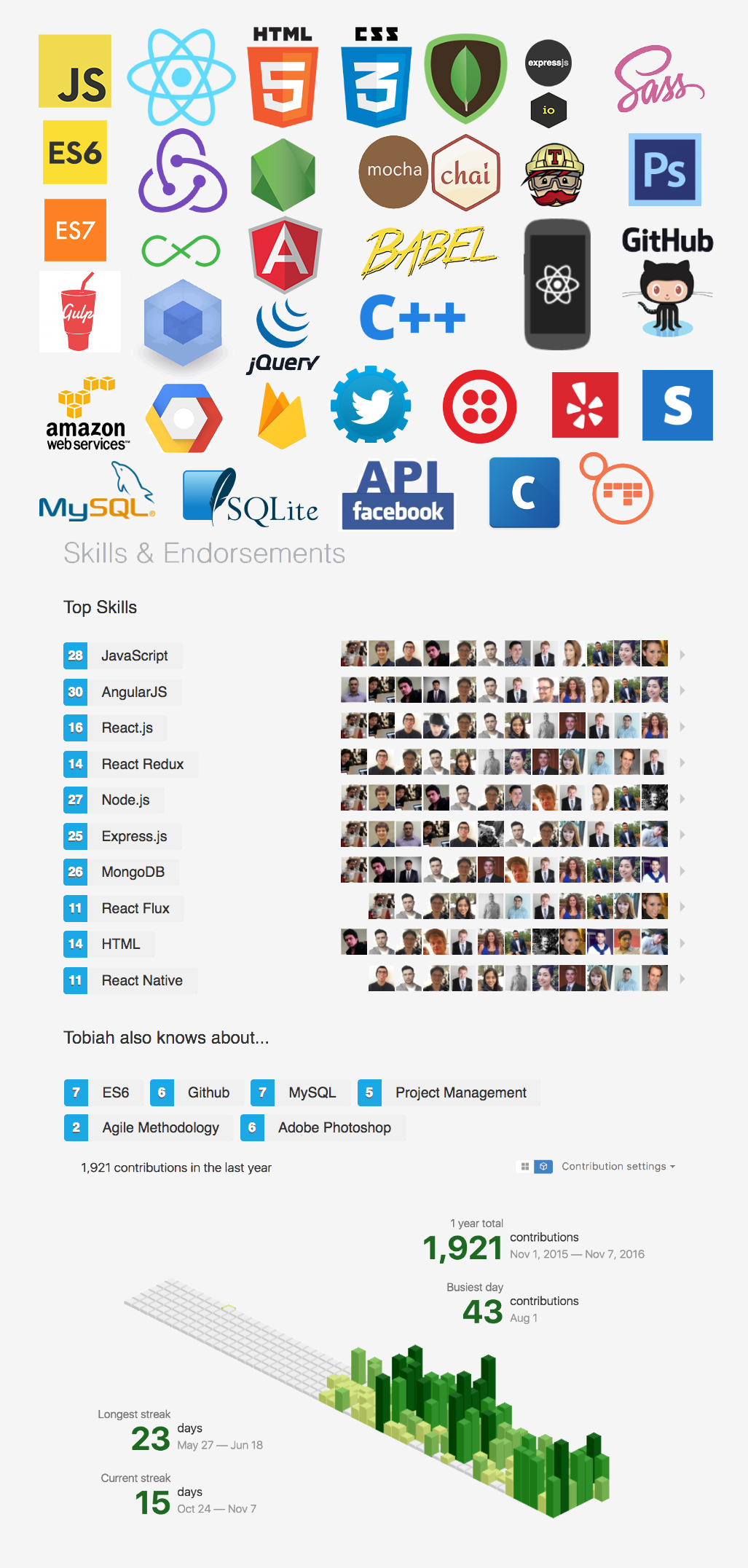 ---
I currently mentor JavaScript students to better understand & develop Full Stack Web Applications. I also conduct 1 on 1 concentrated sessions with students to break down and implement Computer Science topics from Binary addressing to Data Strucutre implementation within their apps for performance optimization.
In the Navy I personally oversaw a $1.4 million budget of electronic testing equipment which was directly responsible for maintaing USS John S. McCain DDG-56's readiness for real world operations in the Asian Pacific Theater.
I directly supervised 14 petty officers, delegating authority, verifying maintenance procedures, and directly answering to the Commanding Officer. I personally qualified superior Naval Officers and Chief Petty Officers on matters of Combat Response procedures for war time situations with respect to Navigation & Combat equipment.
I have complete confidence in public speaking roles, answering directly to high ranking Leaders, carrying large amounts of responsibility and effectively leading members of a team.
---
12
Coding Students Mentored
16
Petty Officers Supervised
Over the last two and a half years, I've averaged 30% annual growth in my FOREX & Bitcoin trading accounts.
In the military I received 4 letters of personal commendation from 3 different Admirals, and 10 medals during my Naval Service.
In High School I maintained a 4.5 GPA, and continued to earn 90% or better during my Higher Education studies. I very much enjoy learning new concepts. This wasn't always the case. However at an early age I learned "How to Learn" and since then, I am constantly seeking new ways to absorb fascinating concepts on a very deep level.
---
Potential Weaknesses:
&middot I tend to over-obsess and sometimes pay too much attention to details which can lead to high quality but sometimes slowness.
To assist myself, I consistently try to implement agile methodologies with set sprint deadlines. Big fan of ScrumDo.
&middot I feel that most meetings are a waste of time.
To encourage myself to engage, I try to point out weaknesses in plans and procedures and most importantly, provide possible solutions.
&middot I tend to talk a lot, and sometimes provide copious amounts of un-needed detail when reporting on a job or task.
To assist myself, I have recently, conciously, added phrases to my vocabularly like "So my point is..." & "I said all that to say..."
---
32
% Annual Growth
2.5 Year average
14
Naval Medals
& Letters of Commendation